Finding the Best Heated Floors for Your Home
As the most efficient heating technology today, radiant heated floors are fast becoming more and more common in today's modern home. Combining unmatched comfort and energy efficient operation, radiant floor heating systems have proven to offer a wide variety of advantages over conventional forced-air heating methods. But there are many different types of floor heating systems to choose from, so finding the best floor heating system for specific floor types can be confusing for some homeowners.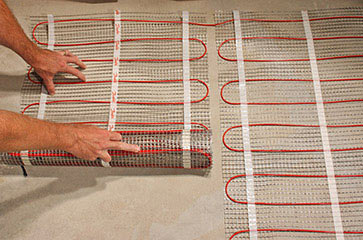 Electric heat cable (in mats) being installed.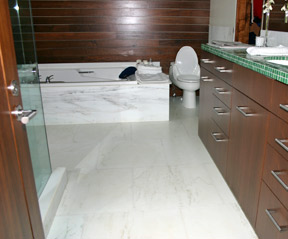 Electric radiant heat systems are ideal for heating bathroom floors.
While a select few floor heating systems are regarded as the industry leaders, no single system can claim to be best for heating every type of floor. The best heated floor system for you depends on your needs and type of flooring. However, regardless of the type of floor you wish to heat, it can safely be said that installing a radiant floor heating system is a smart investment in your home. These clean, silently operating systems require no maintenance while providing truly luxurious warmth that needs to be experienced to fully appreciate.
The laws of nature tend to favor radiant floor heating systems over conventional forced air systems. Conventional forced air heating systems use a furnace to blow heated air from registers to heat the home. The hot air rises quickly to the top of the room before cooling and dropping back down, causing the room to be uncomfortably stratified. Occupants may feel warmth at their heads, but their legs and feet are not nearly as warm. Adults in the room may feel warm, while small children playing on the floor don't enjoy the same warmth. It's natural for the homeowner to bump up the thermostat to add more heat to the room, causing the furnace to kick on and off throughout the day as it tries to maintain the desired temperature. With radiant heat, there are no uncomfortable "ups and downs" in temperature, and no wasted energy. Warmth radiates upwards from the floor to heat where the people are rather than collect at the ceiling.
The two types of heated floor technology are hydronic and electric systems. Both systems utilize a series of heating elements (tubing or thin heat cables) that are installed under the surface of the floor. Heat radiates from this heat source, warming surrounding objects and even the room.
Some Benefits of Radiant Heated Floors
Precise Heating Control and Energy Efficiency – Radiant heat technology has improved significantly over the past few decades, making heat loss and wasted energy almost non-existent in today's top floor heating systems. In addition to the efficient use of energy, radiant floor heating systems feature precise control. Each zone (or room) is controlled by its own thermostat, so you can eliminate wasted heat by warming only where and when you need.
Health Benefits – Unlike noisy forced air systems that blow dust and allergens from vents throughout the house, radiant floor heating systems provide warmth that gently rises upwards from the floor. For those who are susceptible to allergies or respiratory ailments, radiant heat has proven to offer significant health benefits.
Discreet Easy Installation – The concern for bulky duct work or the inconvenient placement of floor registers is eliminated with a radiant heating system. There is no need to worry about limited ceiling or wall space to accommodate a conventional heating system. Electric radiant heat systems are discreetly installed under the floor's surface and operate silently to provide luxurious warmth.
Maintenance Free – Electric radiant heat systems do not have moving parts, making them very reliable and maintenance free. There's no need for yearly checkups or ongoing upkeep of electric radiant floor heating systems.
Fully Programmable Thermostat – Thermostats are included with the floor heating system, and you have the option of installing programmable thermostats if you wish. You can program specific rooms to warm 20 minutes before you get up in the morning, then shutoff while you're gone during the day, and then warm up again just before you get home from work. Radiant heat gives homeowners precise control over their home heating system.
Custom Flexibility – Radiant floor heating systems are easy to customize. You can install radiant heat to supplement heat in a bathroom or install it throughout your home as a primary heating source.

For more information about radiant heating systems, call a radiant heat expert at 888.488.9276.