Installing a Radiant Heated Floor
Believe it or not, installing a radiant heated floor is not an extremely difficult task. In fact, much of the installation of the heat cable can be done by any ambitious homeowner. Floor heating cable is available on the spool or pre-spaced in mats. Many top brands feature pre-spaced cable on a durable fiberglass mesh with an adhesive backing. The mats are easily rolled out and affixed to the subfloor for quick, easy installation. While homeowners can perform much of the installation labor, it is crucial that a qualified electrician perform all of the system wiring.
How to Make Turns when Installing the Floor Heating Cable in Mats
To make turns when laying out floor heating mats, simply cut the mesh backing and turn the mat accordingly, as shown in the photos. (Never cut the heat cable.)
| | | | | | |
| --- | --- | --- | --- | --- | --- |
| | | | | | |
| Cut the mesh backing. | Do not cut the cable! | Turn the roll of cable. | Align the mat. | Lay out the mat. | Properly space the mats. |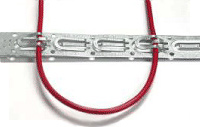 Installing Heat Cable from the Spool
When installing heat cable off the spool, the cable is secured to the floor using thin metal strips (cable straps) that are nailed or screwed to the floor (see photo →). These straps have small tabs that allows you to space the cable at the desired width. Then, simply bend the tab over the cable to secure it.
Installing Floor Heating Insulation Panels and Heat Cable

HeatShield floor heating systems feature lightweight, ½-inch-thick polystyrene insulation panels covered with a thin, specially profiled aluminum. The panels are clipped together with the plastic clips (provided) and then heat cable is placed in the grooves provided in the panels. The floor heating system provides excellent insulation that optimizes the performance of the heat cable by reflecting all the heat upwards to the floor. While this system is slightly more costly, it is extremely efficient and when combined with quality heat cable, one of the most effective floor heating systems on the market.