Frequently Asked Questions about Radiant Heated Floors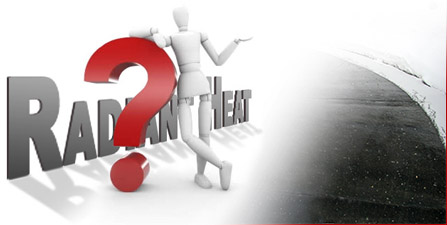 Radiant heat is a heating technology that is commonly used for snow melting and floor heating applications. It is the most efficient heating method available, and generates heat from a heating element that radiates outward from the initial heating source to warm the surrounding objects. These systems are very energy efficient, with virtually no energy loss during the radiant heating process. Radiant heat is commonly used to heat driveways, sidewalks, and floors, as well as roof deicing and gutter trace applications. Both electric and hydronic technologies are used for various snow melting and floor heating applications.
Hydronic systems utilize a gas or oil burning boiler that heats specially treated water that is pumped by a series of electric pumps through a closed loop of flexible PEX tubing installed under the surface to heat the driveway (or floor). Large hydronic radiant heating systems can often operate at a cost slightly lower than that of electric systems because of the lower cost of fuel (natural gas or oil). Because of the lower operating cost, you may want to consider hydronic radiant heat if you are looking to heat a large area. The installation costs and equipment demands are greater with hydronic systems, but operational costs may be a little lower.
Electric snow melting systems are extremely energy efficient and can be installed under just about any type of surface. Electric radiant heat is especially well suited for small and medium sized driveways, sidewalks, porches, and ramps etc. The benefits of electric systems include easy installation, rapid response time, maintenance free, silent operation, and they are easy to customize.
RADIANT HEATED FLOORS

Q.

How do radiant heat systems work?
A.

Electric radiant heat systems utilize heat cable that is embedded under the finish floor. Heat cable is available in lengths of the spool or pre-spaced on an adhesive-backed fiberglass mesh.

Hydronic floor heating systems utilize a mixture of hot water and propylene glycol (anti-freeze) that circulates through a closed-loop flexible polymer (PEX) tubing that is installed under the floor surface. The liquid is heated by a centrally located water heater (boiler) and then circulated through the PEX tubing by a series of pumps to warm the floor.

Q.

How much does it cost to install radiant heat?
A.
There are many variables that determine cost, and no two radiant heating systems are exactly alike. For accurate pricing, visit a top provider's website and fill out their information form to receive a free quote. (This information includes square footage, surface type, etc.)

Q.

Are radiant heated floors energy efficient?
A.
Radiant floor heating systems are very efficient. Of course, much depends on the installation and the type of floor being heated, but radiant heat technology has improved to the point where heat loss is virtually eliminated. Many systems boast that 99% of the system's energy goes to heating the floor.

Q.

In what types of floor surfaces can radiant heat systems be installed?
A.
Ceramic tile may be the ideal surface for a radiant floor heating system; however, virtually any type of floor can be heated - even carpet.

Q.

What are the power requirements for a floor heating system?
A.
The power requirements vary from system to system. Generally, cable heating systems require a 240 V 30-amp breaker for every 300 square feet you are heating. (On average, a 240 V 30-amp breaker is required for every 175 square feet you are snow melting.)

Q.

Are floor heating systems controlled by one main thermostat?
A.
Radiant heated floors are particularly efficient because each room (or zone) is controlled by its own thermostat. Programmable thermostats are also available. You can program your floor to warm just before you get up in the morning and then have the system turn off when you leave for work. The system temperature is controlled by either an external or built-in sensor.

Q.

What if I want to heat my existing floor? Can I still install radiant heat under my floor?
A.
Yes. The RetroHeat system and FloorHeat system installs under existing floors in between floor joists. Both systems consist of thin panels that staple up, between the floor joists. If you have access to underneath the existing floor, you can install the RetroHeat system or the 9-inch rolls of FloorHeat into the floor joist. After insulation is installed, the system forces heat up through the floors, warming the floor above. The system can be enough to heat an entire room, depending on the room.

Q.

What are the operational costs of snow melting systems?
A.
The average operational cost for a snow melting system is approximately $0.28 per 100 square feet per hour. This figure is based on a system producing 35 watts/sq. ft. with a kwh rate of $0.08 per hour (the national average kwh is $.08/hour). If you know the square footage of the area you want to heat and your kwh rate, you can calculate the operational costs with this formula: heatable sq. ft. times watts/sq. ft., divided by 1000, times your kwh rate.

Q.

What is the best way to design a system and/or who provides design and engineering services with their systems?
A.
A floor heating (or snow melting) system is only as good as its design and installation, which is why it is crucial to only purchase a system that includes a detailed layout with all the technical information. A top quality benchmark for engineering and design is the professional layout / AutoCAD services provided by this radiant design team. Only work with trusted companies that include complete system engineering and design layouts. (View samples of radiant heat system design drawings.) Call 888.488.9276 for more information.
Top of Page