The Benefits of Radiant Floor Heat
Radiant floor heating systems offer several benefits. Whether you use radiant heat for your primary heating source or install heated floors in select rooms to supplement a traditional heating system, you'll find the comfort of radiant heated floors to be luxurious and extremely efficient.
Radiant Heat - Summary of Benefits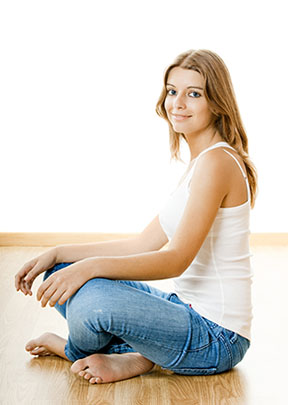 Precise Heating Control Results in High Efficiency and Comfort - Radiant floor heating systems have proven to be very energy efficient. The technology behind these systems is inherently efficient, but it has improved even more over the past few decades, making heat loss and wasted energy almost non-existent. In addition to the efficient use of energy, radiant floor heating systems feature precise control, so you can set the desired temperature in each room, or "zone". Each zone is controlled by its own thermostat, so you can eliminate "wasted heat" and warm only where and when you need. Although with forced air systems you can close vents to direct more heat to other rooms, this is still not an efficient way to heat specific areas of your home. With radiant heated floors, there is no wasted energy or heat loss in those rooms that you choose to not heat.
Thermostats are included with the floor heating system, and you have the option of installing programmable thermostats if you wish. For example, you can program specific floors to warm 20 minutes before you get up in the morning, then shutoff while you're gone during the day, and then warm up again just before you get home from work.
Health Benefits - Unlike noisy forced air systems that blow dust and allergens from vents throughout the house, radiant floor heating systems quietly provide warmth that gently rises upward from the floor. Radiant heat has proven to provide a much cleaner breathing environment, resulting in significant health benefits for those who are susceptible to allergies or respiratory ailments.
Maintenance Free - Electric radiant heat systems do not have moving parts, making them very reliable and maintenance free. There's no need for yearly checkups or ongoing upkeep of electric systems.
Attractive, Practical Design - Radiant floor heating systems are installed discreetly under the floor, eliminating the need for bulky duct work or floor registers associated with conventional forced air systems.
Easy to Customize - Heated floors are also easy to customize. Radiant heat can be installed to warm small, custom shaped areas, supplement heat in a bathroom, or used throughout the home as the primary heating source.
Luxurious Comfort - No one can dispute the comfort of radiant heated floors. Radiant heat offers comfortable warmth that is hard to imagine without being experienced.