Professional Radiant Floor Heating System Design
A
radiant underfloor heating
system is only as good as its installation. For this reason, it is imperative that you work with a radiant heat provider that includes professional system design and engineering services. If you buy the
best radiant floor heating components
on the market, they will be of little value if the system is not designed or installed properly. It's important to know all the power requirements and specs beforehand so you won't encounter unexpected problems during the installation process.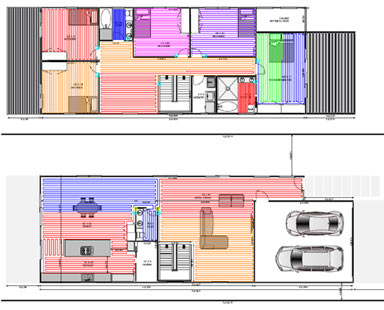 Other, less reputable providers may offer you cheaper prices up front, but if those prices do not include professional system design drawings, don't waste your time.
The drawing on the left is an example of a professional floor heating system design. With a professional layout of the system, prior to any installation taking place you will know all of the technical specifications, power needs and performance expectations of the system. This is vital for your electrician and can save you time, money and headaches in the long run.
Look for complete radiant heat services. In addition to the professional custom design of your system, top tier companies will offer you support services as well. Top companies include personal installation support from an experienced staff of electricians and radiant heat experts. During the installation, your installer will be able to talk with an expert and be guided through the installation process if needed. The best providers may even offer free installation training for installers.
Radiant heat providers that emphasize customer service and post-sale (installation) support are the ones you'll be better off dealing with. Also, in your search for the right provider, look for companies that offer a wealth of radiant heat information online. This includes product guides, installation manuals, marketing documentation, instructional videos, illustrations and more. Companies that openly (and freely) offer information tend to be the best companies to team up with when it comes to installing a radiant floor heating or snow melting system.